5 Things Recruiters Don't Want Job Seekers To Know
Recruitment is one of the most difficult and complicated tasks. Therefore, it requires a great deal of knowledge and experience to do it well. However, recruiters conceal certain things from job seekers. Without prior knowledge and experience, you can't take full advantage of them. The recruiter looks at the applicants' qualifications, experiences, communication skills, ability to work under pressure, and soft skills. Job seekers evaluate the salary and benefits, company reputation, work environment, etc. However, there are a few things that the recruiter doesn't want job seekers to know. In this blog post, we will discuss the five things that recruiters hide from job seekers.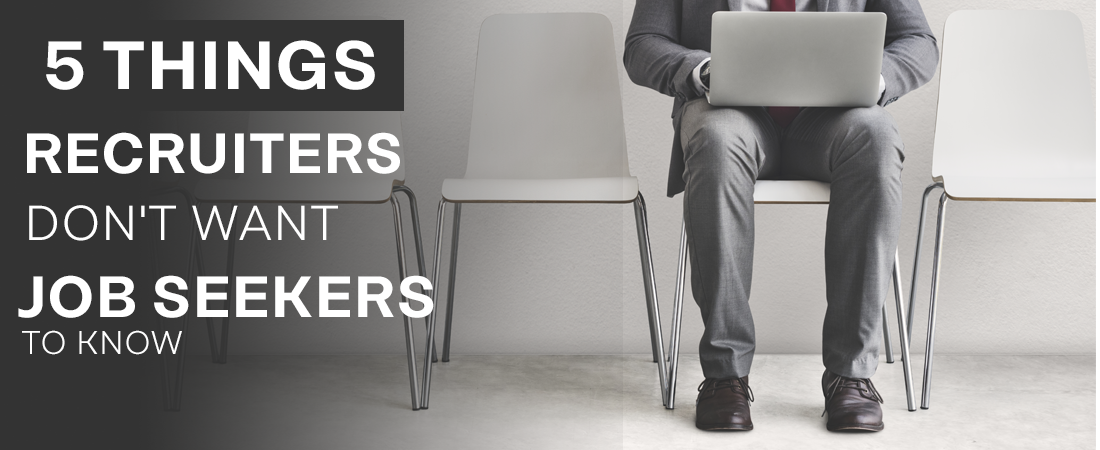 Things Recruiters Hide From Job Seekers
Job Postings May Not Be Accurate for Job Seekers

Your Social Media Presence Matters

Referrals are Valuable

Negotiating Your Salary Is Possible for Job Seekers

Interviews are not just about Qualifications
1: Job Postings May Not Be Accurate for Job Seekers:
The recruiters sometimes post a job opening even though they don't have any openings just to have a pool of potential candidates. So, if you want to apply for the job, you should check with the company to see if the position is still open. It is quite possible that the hiring process has been closed or entered a second phase. So rushing into a job before confirming it can lower your morale because you won't get good feedback on it. However, the recruiters always keep it secret from the job seekers to keep the competition alive. 
2: Your Social Media Presence Matters:
The power of social media is negligible. There are plenty of companies and recruiters who use these social media platforms to improve their online footprints. Also, recruiters often look at the applicants' social media profiles to judge their communication skills, professionalism, circle of friends, and network circle. Therefore, it's crucial to maintain a positive and professional online presence. Also, don't post anything controversial or offensive because your social media presence shows what you can do and how qualified you are. 
3: Referrals are Valuable:
Referrals are valuable because they can make any organization a valuable asset without going through the process of recruitment. There are numerous companies that offer incentives to employees who refer job applicants. because the referrals are more likely to fit into the company culture and have higher chances of success in the job. So, it's important to make connections with professionals in your field and ask for job leads. Your referrals can guide you in many ways about the work environment and culture. However, these are recruiters' secrets that no recruiter truly shares with job seekers. This can also increase your chances of getting hired and even lead to a better job opportunity. 
4: Negotiating Your Salary Is Possible Job Seekers:
Many people think that the salary range listed in the job posting is set in stone and cannot be changed. However, this is not always true. When they want to hire you, recruiters always have some room for negotiation when it comes to salary. One piece of career advice is to research the average salary for your role and experience and be prepared to negotiate during the job interview. 
5: Interviews are not just about Qualifications:
No longer do recruiters look at a person's skills, qualifications, and experience to decide if they should be hired. Most likely, the recruiters will look at your skills, how you handle pressure, how you solve problems, and how well you fit into the company's culture. So, it's important to get ready for interviews by learning about the company, practicing your communication skills, and having answers ready for common interview questions.
Bottom Line:
Job seekers should be aware of these five things that recruiters may not want them to know. By understanding these factors, job seekers can improve their chances of success on the job market. To get the job of your dreams, it's also important to keep a positive and professional online presence, network with professionals in your field, negotiate your salary, and prepare for interviews.
If you are a new job seeker or an experienced candidate looking for potential opportunities, then you can count on EIDIKO HR as your one-stop-shop HR outsourcing services provider in the region. They have been offering exceptional recruitment and HR services for many years. Their team of experts is always ready to help you, whatever your needs are. Call now to grab their reliable recruitment and HR services.