How To Overcome Job Rejection And Become More Positive
Rejection is not a failure; it can be hard to understand, but job rejection always teaches you something. However, it is the worst experience, but if we look at it positively, it will provide unanticipated benefits. Nobody likes being turned down for a job, especially when you are well-prepared and desperate for work. However, by bringing more positive energy, you can turn this losing game into a win.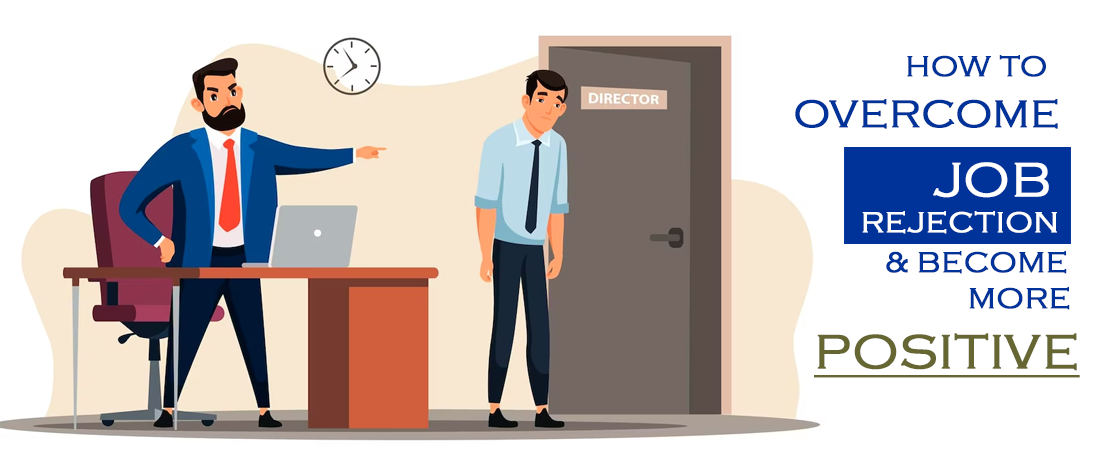 Companies are more concerned about their company's future, which is why they are always looking for employees who will work with them in the long run. However, it is difficult to deal with rejection when you have bills, rent, fees, and other expenses to pay. It is impossible to stay positive after submitting dozens of resumes, attending interviews, and then not hearing back from employers. This is when you start to see everything negatively.
A Huge Wave of Job Rejection:
In the last couple of years, during the Corona pandemic, we have seen a huge wave of rejection across the globe. However, the limited opportunities forced the firms to limit their recruitment opportunities. So, it's more important than ever to deal with job rejections better and find other work. That's where this blog post will help you overcome job rejections and come back more positively. Before we start digging into the main topic, let us introduce you to EIDIKO HR, one of the most exceptional and renowned career counseling and recruitment consultants in the region. Let's begin with how to overcome job rejections and return stronger. 
Nothing Personal:
Many of us might have faced job rejection at some point in our lives. This is why it's not something personal that only happens to you. Don't take a job rejection personally if it happens to you. Employers only intend to select the best candidate for the position, which could be anyone. Employers never decide whether to hire or not hire a candidate lightly, whether it's during an interview or a screening process.
This is why you need to understand that there are no personal feelings or intentions behind the rejection. However, it's good to ask for feedback to improve yourself. This can be accomplished by learning a new skill, reading books, practicing for interviews, watching relevant videos, and so on.  
You are Your Best Analyst:
Being aware of your own strengths and weaknesses makes you the best analyst you have. This is why you must analyze yourself to see where you are lacking. Though you didn't get selected, that doesn't mean you don't have areas of expertise. So, from the screening process to the interview, give yourself time to figure out what you need to work on. Instead of seeking feedback from employers, you should seek feedback from yourself, as you will have more positive things to improve. Highlight your strengths and focus on how you can improve on them during the interviews. This will help you improve your interview skills and enable you to get your dream job. 
Stay Positive Against Job Rejection:
Keep a good attitude and focus on your strengths. It's normal to feel disappointed and down after being turned down. However, allow yourself to feel these emotions, but don't dwell on them for too long. Focus on the things that you can control, such as your attitude and actions, and try to maintain a positive outlook. It is critical to maintain a positive mental attitude when dealing with rejection. However, you can achieve this by meeting friends, family, and other people who make you feel relaxed, comfortable, and confident. 
Keep Networking: 
It's important to stay in touch with people you meet during your job search, as they can be valuable contacts for future job opportunities or for gaining industry insights. You can do this by sending them occasional updates about your career or by inviting them to coffee or lunch to catch up. You can also keep growing your professional network by going to events in your field, joining professional groups, or making connections with people on LinkedIn.
Don't Give Up Despite Job Rejection:
Remember that rejection is temporary, but hard work is permanent. This is the part of the job search process that does not accurately reflect your skills. There is no need to give up over rejections; keep applying, and you will find the best fit for you. If rejections have left you feeling worn out, it's time to take a pause, relax, and then strike back, but there's no need to give up on this. There was a time when you started from scratch, but now you have the experience and get energy from your experiences. Rejection and failure will keep striking your door, but you have to keep moving forward; this is the only way to get selected.
Seek Help:
When it is difficult to move on, a career counselor or mentor can provide guidance and support. They can help you identify your strengths and interests, set goals, and create a plan of action to achieve them. They can also help you find jobs and improve your career by giving you resources and advice. It is critical to remember that seeking help is a sign of strength and that you are taking steps to improve your career and overall well-being.
Practice Self-Care: 
Taking care of yourself mentally and physically is important for your overall health and can help you move forward. Regular exercise can help reduce stress, improve mood, and boost energy levels. Eating a healthy diet can also help support your physical and mental health. Getting enough sleep is crucial for maintaining general health and well-being. Additionally, doing things that make you happy, such as hobbies or spending time with loved ones, can help improve your mood and provide a sense of purpose. It's important to find balance and make self-care a priority in your daily routine.
Bottom Line:
Job rejection is a temporary phase that might come many times in anyone's life. However, this does not imply that the individual is incapable. Employers are always looking for the best fit for a vacant position. They may reject a candidate who is overqualified or merely qualified. There can be many reasons for the rejection, but rejection can't reveal the worth or capabilities of personnel. Therefore, one must not take it negatively. This is where you need to consult the experts. EIDIKO HR is one of the leading career counseling and recruitment service providers in the region. If you are looking for career advice or recruitment services, look no further than EIDIKO HR.