The Benefits of Live Chat Support Services for E-commerce
In today's fast-paced and emerging technology world, online shopping is not just a trend. It has become an integral part of our daily lives. With the convenience of shopping from home, more and more people are turning to online and e-commerce platforms. But as the number of people who shop online grows, customer support services have become more critical. This is where live chat support services come into play. It is one of the best ways to provide customer support services. Live chat support allows customers to talk to a customer service representative in real-time through text-based messages. It offers a quick and convenient way for customers to get their questions answered, issues resolved, and complaints addressed.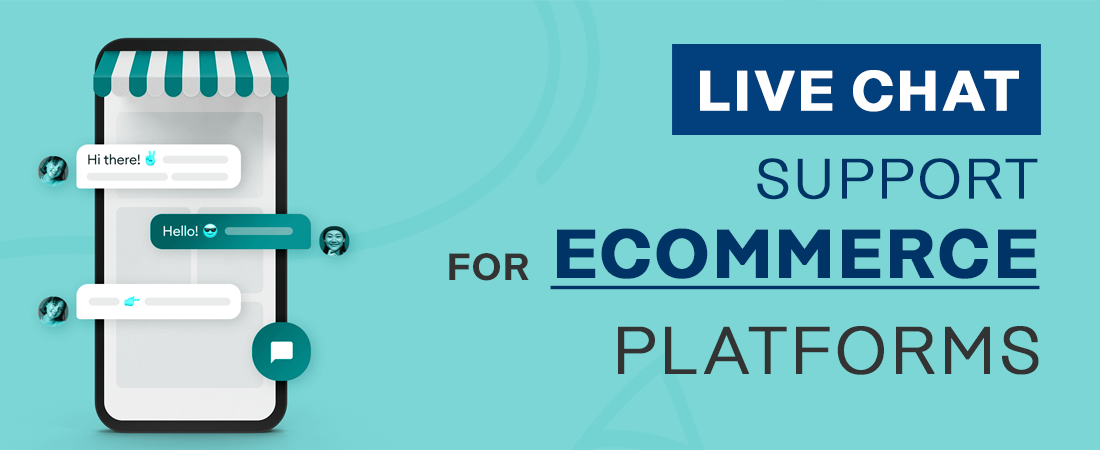 The mode of communication in live chat support services is typically text-based. In addition, some live chat support services may offer the option for customers to communicate through other channels, such as email or phone. However, the primary mode of communication for live chat support services is through chat windows. During the live chat support, the customers type their concerns or questions, and the customer service representatives respond in real-time. Some live chat support services enable customers to send attachments, screenshots, or images to better understand their issues.
The Benefits of Live Chat Support Services:
The benefits of live chat support for e-commerce platforms are vast. Here are some of the key advantages you should be aware of:
Increased Customer Satisfaction

Improved Customer Retention

Reduced Response Time

Cost-Effective

Increased Sales
1: Customer Satisfaction with Live Chat Support Services:
Live chat support services are a great way to give excellent customer service and make customers happier. The customers get answers to their questions rapidly, which improves their trust and confidence in the service offered. Additionally, the customers appreciate and like the prompt responses to their queries. With live chat support, they won't need to hold the line or send emails to the service provider. The process is straightforward—you text your query and get answers. But there are more benefits to live chat support than just giving the customer answers. By offering a personalized experience, businesses can build strong relationships with their customers. This can eventually lead to increased customer loyalty and higher customer retention rates. 
2: Improved Customer Retention:
Live chat support services have become a popular way for e-commerce businesses to talk to their customers because they are easy and quick to use. Customers are more likely to return to the e-commerce platform for future purchases when they are satisfied with the service they receive. A better live chat experience tends to retain customers. However, a poor experience may cause a loss of potential shoppers. Therefore, e-commerce businesses can keep customers by offering excellent customer service through live chat. 
3: Reduced Response Time:
One of the primary advantages of live chat is that it reduces the response time. The customer care representatives respond in real-time whenever a customer queries. When a customer's question is answered quickly, it makes the customer happier and improves the overall customer experience. Additionally, businesses can gather valuable feedback from their customers in real-time. This can lead to improving the overall customer experience by offering prompt services. Customers appreciate companies prioritizing their time and providing efficient communication channels in today's fast-paced world. Live chat support is a simple and effective way for e-commerce businesses to meet customer expectations and go above and beyond what is expected of them in terms of service.
4: Live Chat Support Services are Cost-Effective:
Live chat support is a cost-effective way to provide excellent customer service. It can simultaneously handle multiple conversations, reducing the need for additional staff. Therefore, businesses can manage more customer queries and support requests without a supplementary budget. Live chat support lets businesses track customer interactions, monitor performance, and get helpful feedback. This feedback can help the business improve its productivity and the services it offers. Overall, live chat support is a great way for companies to give excellent customer service, save money, and make customers happier.
5: Increased Sales:
Live chat support services have a significant impact on employee productivity and sales. Helping customers quickly and well can make a business happier, eventually leading to more sales. It has been observed that while shopping online, shoppers leave their carts when they have unanswered questions. Live chat support enables the business to address the customer's questions in real time. It helps the customers make an informed decision and increases the chances of closing the sale. Live chat support also lets businesses make personalized suggestions and cross-sell or up-sell products, which brings in even more money.
Bottom Line:
Every e-commerce business needs live chat support because it gives excellent customer service and makes the whole experience better for the customer. Also, adding live chat support to any e-commerce platform will increase customer satisfaction, improve customer relationships and retention, decrease response time, and boost sales. Live chat support is a powerful tool for e-commerce businesses to drive sales, increase revenue, and improve customer satisfaction.
If you have been looking for a reliable partner to handle your live chat support services, look no further than EIDIKO HR. They have a fleet of trained and skilled customer support specialists to help your e-commerce business thrive.