New Year's Resolution For A Better Career In 2023
Do you have a New Year's resolution as the year comes to a close? It's time to anticipate the coming year right now. This is a great time to make resolutions with optimism and positivity. Making a New Year's resolution will enable you to lead your year accordingly. However, you need to be more realistic while creating your resolutions for the year. Because it could be more difficult to measure the results if your resolution is not realistic.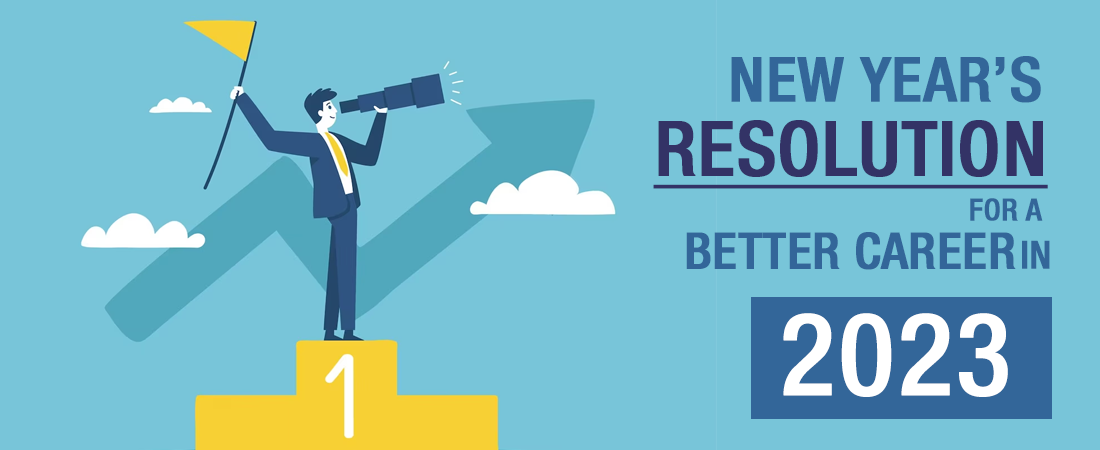 New Year's Resolution in 2023:
If you have been looking for a New Year's resolution for a better career in 2023, then you have just arrived at the right place. In this blog post, we will be discussing the ideas that will help you make your New Year's resolutions for a better career in 2023. Before we dive into the tips and tricks for making New Year's resolutions, let us share some tips with you. EIDIKO HR offers exceptional career and recruitment opportunities. Let's begin now with the subject of your New Year's resolutions for a better career in 2023.
A Healthier Lifestyle

Make Specific Goals

Work-Life Balance

Organization

Enhance Your Skillset

Save Money

Family and Friends
A Healthier Lifestyle for a Better Career:
The first thing you should do to keep your New Year's resolutions is to live healthier this year. However, health is more important than anything else, which is why it should be at the top of your New Year's resolution list. Add exercise to your daily routine, brace yourself for a busier gym, and, at the very least, make it a habit for a few months of the year. Additionally, eat healthy food, avoid junk food, and try to take meals on time. If you eat healthier food, you will lose weight and be able to focus better on your career. 
Make Specific Goals in Your New Year's Resolution:
You will be more likely to reach your goals this year if you set a milestone or write down specific goals. It is a good idea to write down your goals and mission for the next year and then take the necessary steps. Setting goals also helps you do better in your career and gets you where you want to be. One way to do this is to gain experience by taking on additional responsibilities, getting a certification, joining a professional network, or starting a side business.
Add Work-Life Balance to Your New Year's Resolution:
Work-life balance becomes more important to maintain physical and mental peace. This year, you need to balance your work life. There is no need to stay at the office for overtime or extra time because you might think that this would add you to your boss's good book, but it will imbalance your work life. Additionally, sleeping at your desk will not impress your boss either. 
The year 2020 has given us a fresh look at work-life balance; this is why working from home and balancing your work-life is so important. For instance, you should reply to calls or emails after working hours. Having a good balance between work and life will protect your physical and mental health and also make you more important. 
Organization:
Organization is the key to success. In this new year, resolve to get organized. If you have plenty of files and paperwork at your office, you may miss some important information. Then now is the time to organize yourself; this will help you be a better employee for any company. You can do this by putting your files in order or cleaning up your office and putting everything in the right place. The organization is crucial in every way; it will not only enhance your professional life but will also improve your personal life. 
Enhance Your Skillset:
Ending this year with the same skill set will not benefit you anymore. Since technology has made the workplace better, it has been changed and redesigned. Job roles and capabilities are rapidly evolving. This is why it's too critical for your personal and professional lives to enhance your skill set. For instance, you can learn plenty of skills through online courses such as web development, content writing, graphics, painting, woodworking, and so on. Increasing your skill set will not only improve your skills but also make you the company's first choice. 
Save Money:
As inflation is hitting highs across the globe, it's highly recommended to save some money for your future. Saving money should be added to your New Year's resolution because it will help you survive in case anything bad happens to you. Saving money not only makes sure you'll be able to pay for future costs, but it also lets you do so smartly and consistently. However, saving money will have a positive impact on your professional life because you won't be worried about your expenses. Additionally, you would be more positive about work than money. 
Family and Friends:
Family and friends don't have any impact on your professional life. But spending time with your friends and family will help you be more relaxed and focused at work. Most people neglect the importance of family and friend time because most of the time they are working or thinking about their work. This is something you need to change this year; add this to your New Year's resolution so that you will spend more time with your loved ones. 
Bottom Line:
Years will pass if you do not make any changes in your life. However, changes will improve your professional and personal lives, and this is where you should resolve for the new year. 
If you have been looking for professional advice for your career or recruitment opportunities across the globe, look no further than EIDIKO HR. We are a team of skilled professionals willing to go the extra mile to serve you with the best career counseling and recruitment services. Contact us to get top-notch career advice from experienced professionals in the market. You can count on us for career and recruitment services in the UK, USA, and Pakistan.